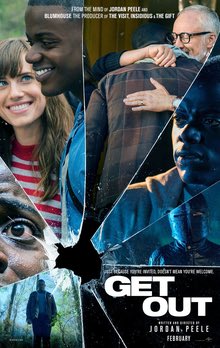 Director: Jordan Peele (Key & Peele)
Starring: Daniel Kaluuya, Allison Williams, Catherine Keener
Rating: B
Recommended?: Yes
Genre: Horror/Comedy
Watched On: Amazon Instant
---
Once in a while a horror film comes out that is utterly, bafflingly different. A few recent examples would include The Babadook and The Vitch: A New England Folktale. These films polarize audiences, spark debate, and challenge the confines of the horror genre. Get Out, a vicious horror-satire and Jordan Peele of Key & Peele's directorial debut, is such a film. An inky commentary on thinly veiled racism among the Liberal elite that is alternately mordantly funny and nightmarish, Get Out is a truly unique movie bound to spark controversy and discussion.
A young black photographer named Chris Washington (Daniel Kaluuya)  goes with his white girlfriend Rose Armitage (Allison Williams) to meet her insanely wealthy family at their lavish abode. When Chris asks Rose whether her parents know she's dating a black man, Rose cites her father's support of Obama, but as soon as Chris meets the Armitages, he picks up on the fact that something is very off about the whole clan.
The sugary-sweet psychiatrist mother (Catherine Keener,) the creepy brother (Caleb Landry Jones,) the incredibly awkward father (Bradley Whitford) who's trying way too hard to show he's down with the brothers… behind all this ridiculous, bizarre behavior something sinister is lurking, but Chris can't quite put his finger on what it is. Chris, like a character in a generic slasher film, has come to the wrong house, and things are about to go down in a big way.
Daniel Kaluuya gives a fantastic performance in this movie, lending Chris' character all the depth and humanity he needs to keep the viewer invested in his journey. Sicario, Black Mirror… this guy doesn't seem capable of giving a truly bad performance. The rest of the cast is great too, especially Allison Williams as Chris' girlfriend Rose. The only performance I thought stood out as weak compared to the rest was Caleb Landry Jones as Rose's freakazoid brother Jeremy. I actually didn't think it was as much the performance as the character, Jeremy Armitage was a little too over-the-top and I think the movie might have been better off without him. He did nothing but radiate sleaze throughout the whole film.
I didn't absolutely love this movie, but I appreciated it for offering me something truly different and continually surprising me. It's not by any circumstances a movie for everybody, and some people might be surprised by it's dark content considering the director's involvement in the comparatively light sketch show Key & Peele. But I think it's a very interesting project that bears attention, and the cast is top-notch. I think Get Out is a movie that might surprise you and challenge your expectations, and isn't that part of what going to the movies is all about? I recommend this movie to filmgoers who are sick of the same-old same-old hack and slash of modern horror cinema, and are looking for a different kind of fright film.