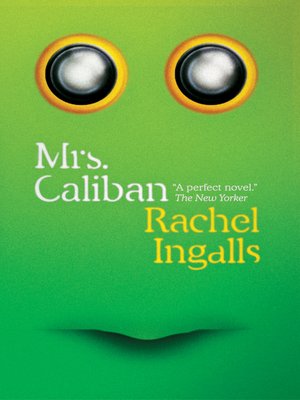 Title: Mrs. Caliban
Author: Rachel Ingalls
Genre: Science Fiction
Number of Pages: 128
Rating: C+
Recommended?: No
---
Mrs. Caliban has a concept that might ensure that some people never pick it up but also ensure other people who are  addicted to seeking out the offbeat and weird will seek it out. I happen to be a proud member of the latter category, so when I saw it was available at the library I wasted no time grabbing the opportunity to read it. Mrs. Caliban is a novella about Dorothy, a married woman who is having a lot of problems in her life. Her son died, for one thing; then she got pregnant only to end up having a miscarriage. Finally, to add insult to injury, her dog was run over and she was left with only her inattentive and uncaring husband Fred for company.
One day she's cleaning her house in preparation for her husband bringing his co-worker over for dinner when something quite out of the ordinary happens- a man-sized amphibious creature appears in her kitchen seeking shelter from the government officials who are hunting him. Dorothy is more than likely to help and instead of being scared like a halfway normal person by this turn of events, warms up to her new friend surprisingly quickly and is having steamy, mind-blowing sex with him only moments later. She lets him sleep in a spare room and Fred is naturally too inattentive to realize anything has changed. The creature's name is Larry and Dorothy grows to care for him deeply and is determined to protect him.
If you can get past the 'sexually frustrated housewife getting it on with a virile fish-man' premise, this book wasn't nearly as creepy as I thought it might be. Larry possesses the intelligence of a human (or quite a bit higher, depending on the human in question) and is familiar with the English language, and all intimate encounters with Dorothy are consensual. There are also (thank God!) no descriptive passages detailing their… ahem… special personal time. I enjoyed this author's plain-spoken, urbane writing style and I think it's a shame that she's largely been so forgotten, but this overall this book was just okay for me. I think the main reason was that even though the story is ultimately pretty sad, it just didn't elicit much of an emotional reaction from me when I was reading it.
I started to sympathize at some point with Larry and his unfortunate situation, but I never really felt one way or the other about Dorothy, despite her being the book's protagonist. Obviously I don't believe in people cheating on their spouses, but it was hard to have much sympathy for Fred either (and that's before he starts showing his true douchebag colors.) I certainly understand why Dorothy would be unhappy with her life, but I think it might have been easier to connect with her if the author had put more focus on the tragedies that shaped her life and exacerbated the growing rift between her and Fred.
She just didn't seem like a fully developed person to me, other than the whole amphibian/human hybrid thing I almost felt Larry was more realistic. This was a really quick read and it was enjoyable enough, but at the same time I don't think it's a book I would actually 'recommend.' It was technically well-written and competently executed, but not something that's likely to leave a long-lasting impression on me.