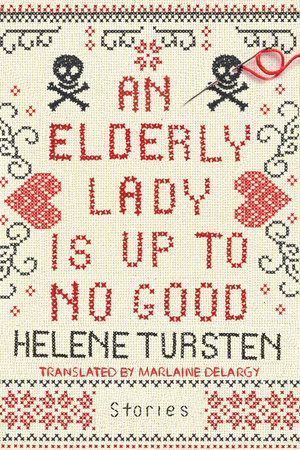 Title: An Elderly Lady is Up to No Good
Author: Helene Tursten
Genre: Mystery/Short Stories
Number of Pages: 173
Rating: B
Recommended?: Yes
---
I'm usually not a big fan of short stories but this book turned out to be an exception, probably because all the stories focused on the same character so the whole thing felt very similar to a novel. The title of this book is both wonderfully attention-grabbing and nothing if not accurate, as the reclusive octogenarian at the center of all the stories is also a serial killer. She's not the kind of person anyone would expect to be a cold-blooded killer, but Maud is all too happy to dispatch of people who seek to complicate her usually quiet and predictable life.
Maud lives alone in an apartment that used to belong to her mother, and her days usually go by peacefully with walks to a nearby grocery store and lots of hot tea. Every so often, though, Maud has a problem with someone who steps out of line and thinks they can take advantage of her. When these people inevitably meet with a gory accident, nobody suspects the sweet old lady next door. Unsurprisingly, Maud has no redeeming qualities but watching her wreak havoc on irritating people who underestimate her is still endlessly entertaining.
Maud doesn't have a traumatic childhood backstory to 'explain' her fucked-up behavior, she just is who she is and none of her crimes cause her to lose any sleep at night. Even though she spent years caring for her mentally ill sister when she was younger, she obviously felt very little for her and longed to be relinquished of her unwanted burden. I haven't read any of this author's other books but I like when writers interconnect characters from their different books so I thought it was cool that a detective from one of the series she wrote showed up to investigate Maud's misdeeds.
I would say An Elderly Lady is Up to No Good is only a mystery in the loosest sense because you always know who's behind the mayhem. It's a quick read with a rather morbid sense of humor and even though it has descriptions of murders and dead bodies, there's no over-the-top gore to give more sensitive readers nightmares. The book left me wanting to know what Maud would get up to next or if mortality would end up catching up with her first.