It's going to be hard to narrow it down to just twenty-five, I've read a lot of good books with interesting characters this year. I'll try to keep this list as versatile as possible and include a lot of different genres.
---
Standish Treadwell (Maggot Moon by Sally Gardner)
2. Rose Howard (Rain Reign by Ann M. Martin)
3. Trina Goldberg-Oneka (The Seep by Chana Porter)
4. Mei (Small Beauty by jia qing wilson-yang)
5. Hank (We Could Be Heroes by Margaret Finnegan)

6. Alex (See You in the Cosmos by Jack Cheng)
7. Erin (Please Don't Hug Me by Kay Kerr)
8. Tatty (Tatty by Christine Dwyer Hickey)
9. Aidan (Flamer by Mike Curato)
10. Xiomara (The Poet X by Elizabeth Acevedo)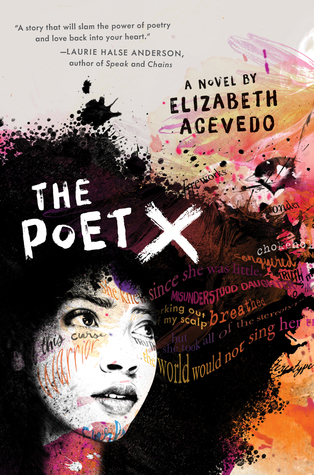 11. Ben Arnold (We by Michael Landweber)
12. Lou Montgomery (Tune it Out by Jamie Sumner)
13. Ivy Aberdeen (Ivy Aberdeen's Letter to the World by Ashley Herring Blake)
A strong, authentic, and heart-breakingly vulnerable pre-teen girl.
14. Frankie (Tornado Brain by Cat Patrick)
15. Sandy Sanders (King and the Dragonflies by Kacen Callender)
16. Joey Pigza (Joey Pigza Swallowed the Key & Joey Pigza Loses Control by Jack Gantos)
17. Jakabob Botch (Mister B. Gone by Clive Barker)
18. All the Kids (The Echo Park Castaways by M.G. Hennessey)
19. Jack (Come Tumbling Down by Seanan McGuire)
20. Emma-Jean Lazarus (Emma-Jean Lazarus Fell Out of a Tree by Lauren Tarshis)
21. Billy Pilgrim (Slaughterhouse-Five by Kurt Vonnegut)
22. Germain (Soft in the Head by Marie-Sabine Roger)
23. Calliope (Forget Me Not by Ellie Terry)
24. Snapdragon (Snapdragon by Kat Leyh)
25. Molly Southbourne (The Murders of Molly Southbourne & The Survival of Molly Southbourne by Tade Thompson)