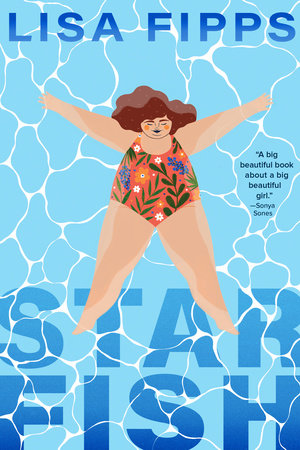 Title: Starfish
Author: Lisa Fipps
Genre: Middle Grade Realistic Fiction/Books in Verse
Number of Pages: 256
Rating: B
Recommended?: Yes
---
Starfish was a surprise; I ended up liking it a lot more than I thought I would. It's about a girl named Ellie who's bullied about her weight, but her harshest critic is her mom. Her mother puts her on dangerous crash diets and constantly bad-mouths her about how much she eats. This was heartbreaking to me because Ellie was smart and a kind person but all most people seem to see is her weight. Her dad loves her and tries to support her but he's the only person in her family who treats her well.
The book is told in verse and chronicles Ellie's struggle to love herself and heal from the psychological abuse she's suffered at the hands of her peers, her family, and even random people in public. This book largely worked for me because I liked Ellie's character and I really appreciated how she used humor to help her with her situation. Her therapist was awesome too and I liked the therapy scenes and the warm rapport between them.
While I didn't feel like it was entirely realistic that Ellie was literally bullied for her weight everywhere she went (and it felt like there were points where the bullying should have been more subtle,) I acknowledge that this was based on the author's real experiences. It just seemed like a lot (if not most) of people in the U.S. are overweight and some of the behavior seemed a little extreme.
As an overweight person, I could definitely relate to the shame Ellie experienced and I thought it was sad that her own mom treated her like complete crap. I did think it was refreshingly realistic that Ellie's problems with her mom weren't really solved by the end of the book and there was so easy resolution offered, focusing instead on Ellie's own road to healing.