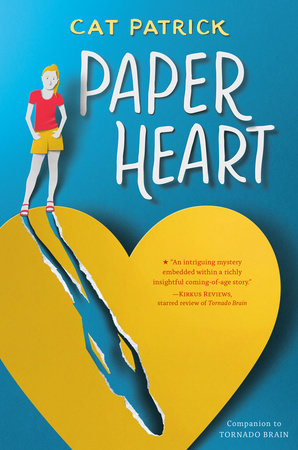 Title: Paper Heart
Author: Cat Patrick
Genre: Realistic Middle Grade Fiction
Number of Pages: 304
Rating: B+
Recommended?: Yes
–Warning: This review contains spoilers for Tornado Brain, which this book is a companion of-
---
In this companion to Tornado Brain, Frankie's sister Tess goes to art camp despite being in the midst of an emotional breakdown over her best friend's death. Because of Frankie's Asperger's Syndrome, ADHD, and generally challenging personality, Tess feels like she fades into the background of her family a lot. She's supposed to be the 'normal' sibling who can 'handle things,' but when her undiagnosed anxiety disorder gets out of control she starts chewing her fingernails off and biting her fingers until they can't stop bleeding.
Frankie (the main character from Tornado Brain) is in the story, but she mostly appears through flashbacks and phone calls/text messages because Tess is staying with her aunt and uncle and Frankie is back at home. I liked Frankie's character but after reading this book, I think I actually like Tess better. I have OCD and Tess's disparaging 'mean voice' inside her head was so relatable. She's a good kid and you just want to give her a hug and tell her she doesn't have to be perfect all the time.
There's a little bit of a mystery in this book, and it's kind of eh. It definitely isn't as interesting as Frankie's investigation into what happened to Collette in Tornado Brain. This one feels fairly tacked on and definitely leaves some plausibility questions. I liked Tess's relationship with her family and how messy and conflicted it was, just like families in real life.
She's a well-developed character and stands well on her own without Frankie's constant presence. I didn't really feel like I got to know Tess in Tornado Brain and I wondered if making her the main character in her own book would feel forced, but the author did a really good job with it. Paper Heart is just as good (if not a little bit better) than Tornado Brain and I'd like to see more books featuring these characters.