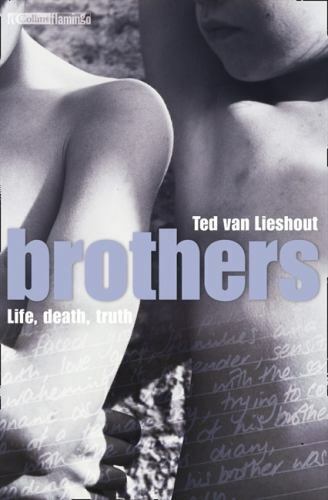 Title: Brothers
Author: Ted van Lieshout
Genre: YA Realistic Fiction
Number of Pages: 155
Rating: B
Recommended?: Yes
---
In this slim but heartbreaking Dutch novel, a teenage boy named Luke discovers his dead younger brother's diary and begins to gradually add to it and fill up the blank spaces. Luke's mom wants to burn his brother Marius' things for 'closure,' and Luke digs up his journal and in spite of himself, begins to read it. He finds out that both he and his brother are/were gay and he finds out the reasons behind the distance in his and Marius' relationship.
When he's done, he understands more about his brother and is able to grieve more fully for his premature death from Wilson's disease. He realizes that Marius' death was preventable and he died largely because of medical negligence. It's horrible to read about Marius' illness. He suffers so much and 'professionals' fail him so completely, leaving him a shell of his formal self before eventually killing him. I was hesitant to read this book when I started it because the mom's character is so over-the-top.
I know there are plenty of truly insensitive parents out there but she came off as a caricature of vainness and self-absorption. She seems more interested on picking on the one son who's still alive than grieving for the dead one. The part of this book I really liked were the scenes that alternate Luke's thoughts with Marius' journal entries. We get two unreliable narratives and Luke realizes how much he and his brother misunderstood each other.
It felt very realistic because relationships are so full of miscommunication and the half-formed assumptions people make about each other. Sibling relationships are particularly tough, especially as kids get older and start to drift apart. I thought this book did a great job of conveying that uncertainty in a fraternal bond.
It's also interesting to see how each brother dealt with the burgeoning awareness of his own homosexuality differently, in a family (and society) that was less than tolerant. This is an older book and was a little hard to get my hands on, but I still recommend it as it is both a poignant coming-of-age story and wrenching portrait of grief.