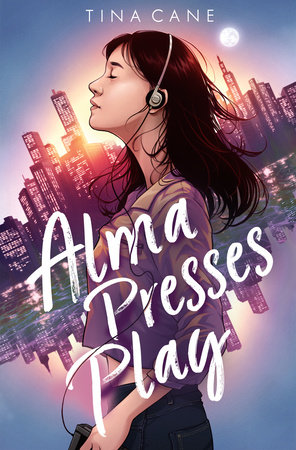 Title: Alma Presses Play
Author: Tina Cane
Genre: YA Historical Fiction/Books in Verse
Number of Pages: 336
Rating: B-
Recommended?: Yes
---
Alma is a thirteen-year-old girl living in New York in the 1980's. She likes reading books, candy, and riding her bicycle around her neighborhood. She's also half-Chinese and half-Jewish, with parents who won't stop fighting. Growing up is hard and Alma doesn't want to lose one of her parents if they get a divorce, which seems imminent. Alma uses books and music to cope with her circumstances and gets support from her diverse group of friends.
Alma Presses Play is not plot-driven at all. In fact, I would be hard-pressed to describe the 'plot' of this quiet coming-of-age story. I liked Alma's character and getting to experience the unique way she saw the world. She was thoughtful and empathic and I appreciated how she felt wise in some ways and and very young at others. It reminded me a little bit of The Perks of Being a Wallflower, one of my favorite books. As for Alma's friends, they were thinly characterized at best and I had a hell of a time telling them apart. They were defined by more or less one character trait and I kept looking back over and over to figure out who was who, which was kind of annoying.
The storyline also left something to be desired, with everything going sslllooww and then ending on a disappointingly ambiguous note. The verse itself is good, and feels a little different from what I'm familiar with. It's a little bit more detailed and richer than some of it's counterparts, and I enjoyed reading Alma's lists of her favorite things that were scattered throughout. I helped you get to know her better and people who are a little bit older can appreciate the plethora of 1980's musical references. The writing really makes you feel like you're part of a place and a time, and touchingly evokes the uncertainty and heartbreak that comes with growing up.